>

ECO 1™ Thermostatic Water Control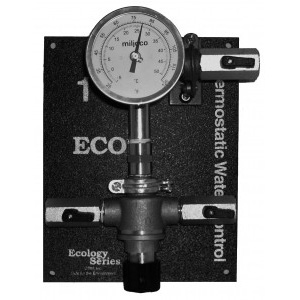 ECO 1™ Thermostatic Water Control
The Water Temperature Control System that
"Grows with your Darkroom!"
Protects the environment with one way valves, conserves water with low flow mixers, and uses non-chromium and non-toxic UL sealers.
Two adjustable spring check stops for one way water flow.
3″ dial thermometer rated 30°F to 130°F with re-calibration screw.
One volume control ball valve.
Accurate ± ½°.
One Year LTD Warranty.
Basic Unit, low/regular flow, ½ to 7 GPM

​The ECO 1™ System "Grows with your Darkroom" by allowing you to begin with the Basic Unit then add accessories as your darkroom "develops!"